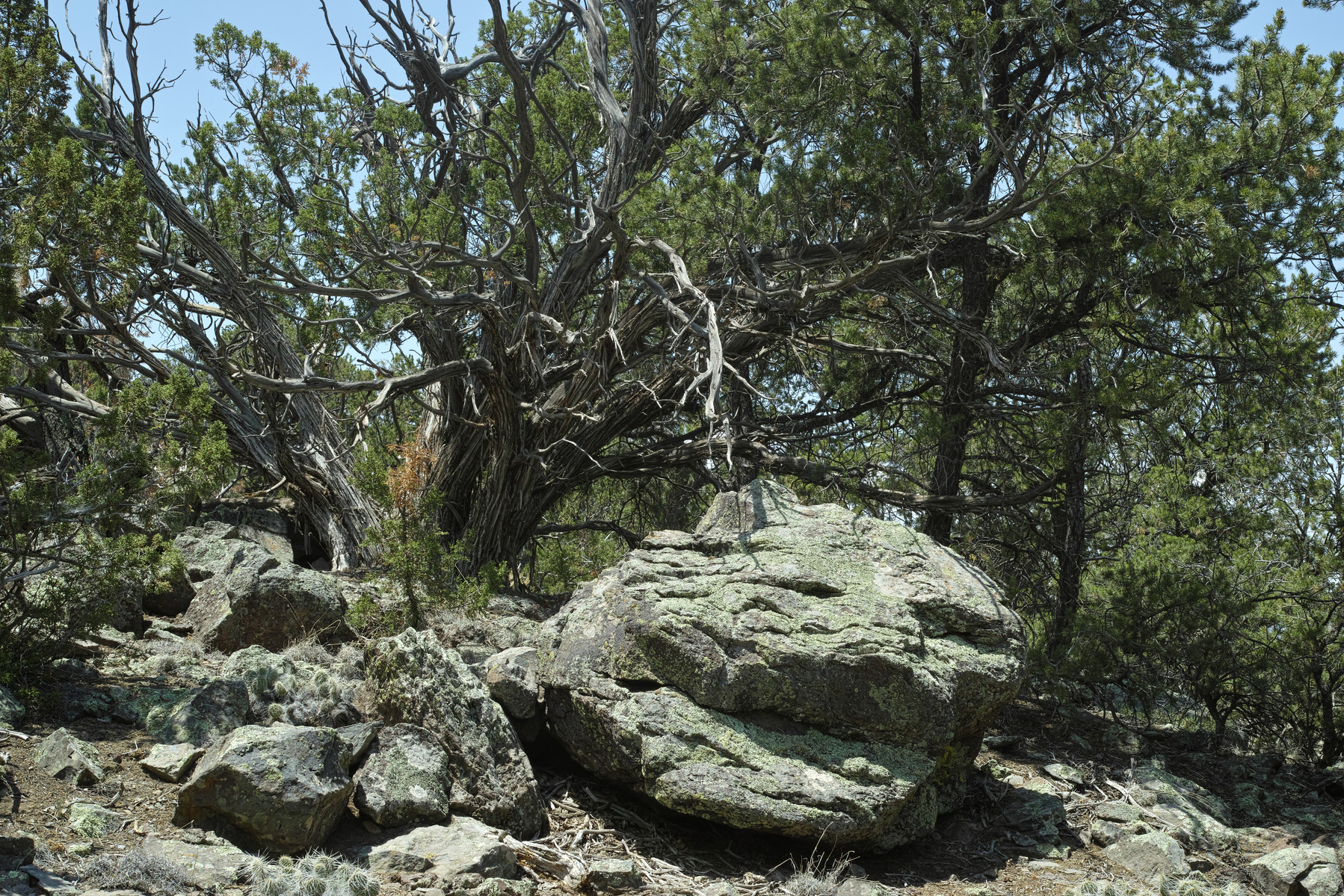 Continuing my landscape journey with the DP Merrill trio, I took an 80-minute drive out west, halfway to the New Mexico-Arizona border. This part of the state is called El Malpais (lit: "bad country/lands, in Spanish). It gets its name from the lava flows that dot the region. The eruptions happened within the last few million to tens of thousands of years, making them practically yesterday, in geologic terms. Black, jagged rocks dot the landscape in places, giving it a hellscape appearance when laid bare.
I didn't hike to the places where you can see the best examples of exposed volcanic rock but here's a small taste of it above. You can see vast plains of jet black basalt as you close in on the park right along the highway. I decided to hike a small portion of the Continental Divide Trail, which passes through El Malpais. I meant to arrive earlier than I did; it ended up being 90F (…yay) when I arrived and warmed up to 105F by the time I made it to the top of the trail.
But the hike itself was spectacular. A fairly continuous but not too steep grade. You can see the rockiness of the trail in the images but so long as you have some sturdy boots and good footing, it's not too bad. I did need to pause often to catch my breath but I'm really excited to see how I'm progressing since I've started hiking more or less weekly. Also, I spend so much time stopping to take photos that I rarely work up a real lather due to exhaustion. The heat, on the other hand, was no joke. It's a dry heat so you're not soaking wet but you're just dripping constantly. And the flies were insanely persistent; they just loved all the moisture I was dripping and refused to let me go without having a sip.
I find it challenging sometimes to maintain a good pace while doing landscape photography out here. On the one hand, I'm not in any sort of rush. On the Sandias Crest Trail, I did a 2.5-hour hike in 6 hours because I was having fun with photography. But it was 80F up there…In El Malpais, I was very conscious of the fact that I didn't bring enough water. I was miles away from literally anyone the majority of the time and the sun was intense, with next to no shade around except for the occasional scraggly tree. I actually DID have a good amount of water, to begin with - a bottle of water AND Gatorade, but I drank some of the water on the way and didn't refill my bottle at the gas station…Oops.
Lessons learned.
The top offered a spectacular view of the landscape as well as a few crosses and other strangeness placed by locals. So many stories being suggested here. I didn't linger long, simply studied my AllTrails app out of curiosity and then tried to make good time on the way back down.
Which I failed at because as stark as the landscape is, it's simply BEAUTIFUL. I kept stopping to take photos and could have spent hours doing so, if not for the fact that it would have been fatal to dally under that sun. Fortunately, a nice breeze and the occasional cloud, plus the continual downhill tread, made the walk back to the car much more enjoyable.
I need to head back to El Malpais a few more times as there are several caves, mountains, arches, and hikes I want to explore! New Mexico really doesn't get enough airtime compared to other states. 5th largest state, 6th least densely populated, 39th lowest total population (2.1 million total, 1/4th of whom live in ABQ). If you want to just get out into nature and be alone for a while, there are few better places to do so!
Just make sure you bring loads of water.